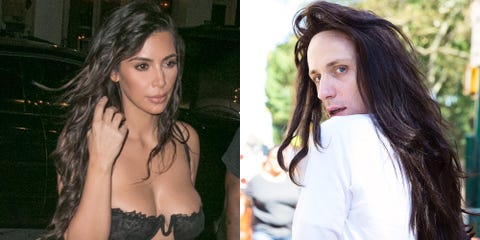 This hair is full of secrets and I'm spilling them all!
Kim Kardashian has been showing off some very long hair extensions recently. Having never had long hair myself, I was curious to see just what all the fuss was about. So, I got myself a wig, added some ass-skimming extensions, and spent a day channeling my inner Kim.
From the moment I put on the wig, I knew it wasn't for me. Long hair is not my look, especially without a bang to help minimize my five-head.
Even so, I did enjoy the novelty of my new tresses. They really raised the fun level of every mundane activity — from crossing the street to turning in my desk chair — and there is nothing I love more than having fun (especially at work).
I sent emails, met with colleagues, and worked on a story about the fashion potential of Slankets, all while whipping my substantial hair back and forth and eliciting peels of laughter from my coworkers. It was a good day, made better by having extra-long hair to play with.
I needed to do more to feel like Kim though. Since she's constantly exercising, I took a trip to my office gym to work up a (mild) sweat and fuel my appetite before lunch. I did not have a hair tie, so I left my raggedy mane to flow freely as I climbed stairs, pushed a punching bag around on the floor, and did whatever it is you do on the elliptical. Stride?